Though I'm a writer, I prefer to be far from a keyboard. I've worked as a forklift driver, arborist, summer-camp director, sticker salesman, climbing instructor, carpenter, and cook. Before landing in the book world, I put in time at a newspaper, a website, a magazine, a radio show, a TV production company, and a couple science museums. I studied writing at Dartmouth and Boston University's Knight Center for Science Journalism, but didn't know quite where to aim. So I bounced around; I lived in Washington, Oregon, California, New Mexico, Colorado, and Wyoming. Far from where I grew up in Washington, D.C., I spent a lot of time outside. In between adventures, I fell back on fact-checking. While living aboard a 40-foot sailboat in San Francisco, and combating way too much rust with way too little money, the kernel of Rust was born. The kernel led to a great year as a Ted Scripps Fellow in environmental journalism at the University of Colorado, and the fellowship led to a book proposal and book deal. I'm now working on my second book, SAM, about the development of an unusual robot, and am also a 2017 Alicia Patterson fellow, focusing on making things last. My writing has otherwise appeared in Wired, Slate, Men's Journal, Outside, the Washington Post, the New York Times, and McSweeney's, among others. I still call Colorado home:
Once I tore off all the Gore-Tex and tried to look authorial: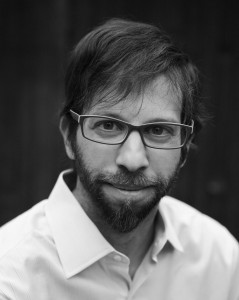 Speaking of authorial, I am not, as far as I know, related to the writer Ayelet Waldman, or the writer Adelle Waldman, or the writer Amy Waldman, or the poet Anne Waldman, or the speechwriter Michael Waldman, or Carl Waldman, who writes about American Indians. I am not the John Waldman who writes about mid-Atlantic fish, and I am not the Jon Waldman who writes about wrestling from Canada, and I am not the Jonathan Waldman who writes about software engineering. I am not affiliated with Waldman Publishing or Waldman House Press. I have no connection to Paul Waldman, the erotic artist. I am not related to Adam, Alan, Bob, Brett, Bruce, Charles, Cliff, Dan, Don, David, Daniel, Eric, Frank, Grant, Gary, Larry, Irwin, Ken, Lee, Louis, Lester, Max, Marc, Mark, Martin, Menachem, Mitchell, Milton, Morris, Murray, Myron, Nahum, Neil, Niall, Noha, Oren, Paul, Robert "Waldo," Roy, Scott, Steven, Stephen, Stuart, Simon, Shmuel, Sidney, Tom, Thomas, Waldo "the Wingman," or Guido Waldman, and I am not related to Allison, Anne, Bess, Bryna, Cindy, Diane, Deane, Debby, Dorothy, Ellen, Gloria, Helen, Hope, Jackie, Joan, Judith, Julia, Katy, Linda, Marguerite, Marilyn, Marta, Maya, Mel, Nancy, Nomi, Nell, Peggy, Selma, Suzanne, Wendy, or Velva Waldman. What's with all these Waldman writers?
I'd like to think that in addition to being the the only Waldman writer who keeps tabs on goats (I am officially "your goat-to guy") I'm the only Waldman writer who can do a one-arm pull-up: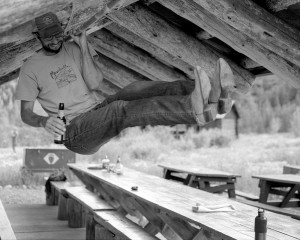 Nice boots, huh?
I've done a bunch of interviews (in print and radio) about Rust…
And after a long hiatus, I'm back on the internet: Facebook / Twitter / Goodreads / Flickr